NOTE: This piece was originally released for publication in December, 2017. You can also read it here.
When we think about where our loved ones will spend their golden years, most of us don't picture understaffed facilities employing known abusers, or dementia patients warehoused, mistreated and helpless to advocate for themselves. But citations issued by government inspectors paint a grim picture of long-term care at dozens of facilities in Virginia.
Evelyn Lee and her sister were faced with the decision of placing their mother in a nursing home when their mother experienced a stroke. Lee's mother selected a nursing home that best suited her needs of acute care for her to undergo physical therapy. When Lee's mother's health began to steadily decline, Lee and her sister started their search for a long-term care facility.
"We looked to see if there was availability, if the nursing home was easily accessible to my sister, and the general aesthetic such as how the facility looked and smelled," said Lee, a reverend at First Baptist Church Bute Street. "When looking at facilities, we looked at the state survey and looked to see if any citations were given to the nursing homes."
Of the 290 nursing homes in Virginia, 72 nursing homes have faced penalties totaling more than $4.7 million since 2014, according to data posted online by Medicare, the government agency that provides healthcare for elderly Americans.
The facilities that have incurred the most fines are:
Montvue Nursing Home in Luray, with more than $600,000 in fines.

Cherrydale Health and Rehabilitation Center in Arlington, with almost $240,000 in fines.

And Harrisonburg Health & Rehabilitation Center in Harrisonburg, with more than $192,000 in fines.
Together, those three nursing homes accounted for about 22 percent of the total amount of fines in Virginia.
Penalties run the gamut of severity. While nursing homes are often cited for relatively minor infractions like failing to post staffing information, many nursing homes across Virginia have been cited in the past several years for more serious violations.
For instance, 116 nursing homes have been cited on 176 counts for failing to either "1) hire only people with no legal history of abusing, neglecting or mistreating residents, or 2) report and investigate any acts or reports of abuse, neglect or mistreatment of residents." 
One Richmond nursing home, Envoy of Westover Hills, has been cited for that exact infraction seven times since July 2015. This was more citations than any other facility in the state received in the same time period. Envoy's nursing director did not respond to requests for comment.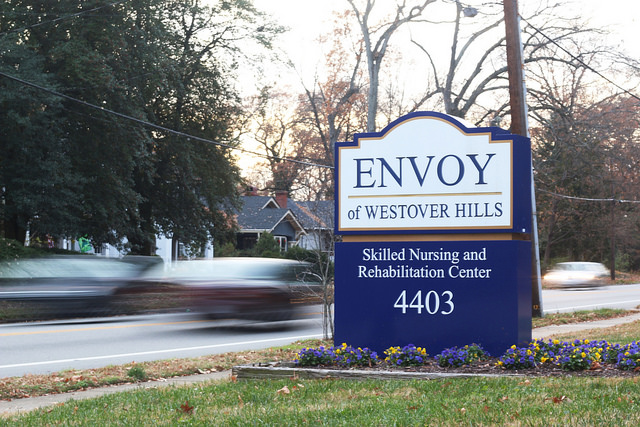 The nursing directors at two other facilities that had been cited multiple times for this same infraction — Culpeper Health and Rehabilitation Center in Culpeper, and Carriage Hill Health and Rehab Center in Fredericksburg — also couldn't be reached for comment.
Long-term care professionals who are dedicated to their jobs and compassionate to their patients say they struggle to keep going in an industry that often does not hire enough staff for its facilities and underpays its staff.
Jordan James, former employee of  Home Elderly Care, says she enjoyed her time at the facility and keeps the memories of her patients close to her heart.
"One of my patients that stands out to me is Mary," James said. "She taught me sign language, and she would always show me her family albums with pictures of her husband, children, siblings and grandchildren."
But at many homes, there aren't enough skilled assistants like James.
"Staffing levels are deficient," said Gretchen Francis, ombudsman for the Capital Area Agency on Aging. "Most for-private facilities do not have enough staff in comparison to the number of residents on the floor. Will residents have to wait for assistance and be in their bed while they're soiled, or try to wait for assistance and need help going to the bathroom and fall? The state recommends 15 minutes to respond to residents, but there is no regulation."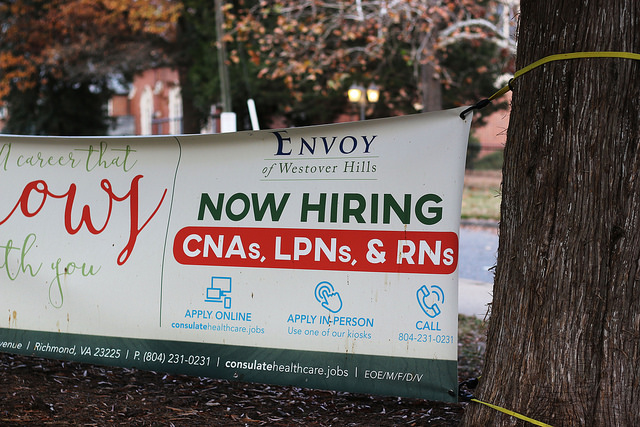 According to the Center for Public Integrity, a nonprofit investigative journalism organization, more than 80 percent of nursing homes are reporting higher levels of registered nurse care to a government-run website for consumers than are reflected in their reports to Medicare.
"As a hospice chaplain, I have seen many nursing homes," Lee said. "I have seen quality nurses, but facilities were simply understaffed. CNAs [Certified Nursing Assistants] tend to the patient's personal needs, and they are overworked and their salaries are very low. Their salaries should increase, and they should only have three patients under their care."
Advocacy by family members can be powerful in ensuring that residents are treated well.
"Residents with strong advocates receive better care," Francis said.
While Lee's mother was in a nursing home, she realized how vulnerable the elderly are without someone to act on their behalf.
"I can remember when visiting with my mom and thinking, if I wasn't there, what would have happened? Whatever nursing home you go to, the family has to be visibly involved and serve as an advocate," Lee said.
Francis suggested that adult children do their research before they choose a place for their parents.
"Not only look at state inspections but see what kinds of citations were given," she said. "If there are significant care issues, I would look into that. The type of citation itself can tell you what type of care the resident will receive."
How to track nursing home quality
During the 1960s, the elderly were the population group most likely to be living in poverty. The U.S. government responded by creating a national health insurance initiative. Since 1965, Medicare and Medicaid have provided services to almost all Americans 65 years or older.
A federal agency called the Centers for Medicare & Medicaid Services annually tracks the quality of care at every nursing home nationwide certified by those programs. The agency recently released the latest data for penalties, deficiencies and inspections involving nursing homes.
You can search the data for information about a specific home or download the entire database.
Over the past three years, nursing homes in Virginia have been cited for 7,658 deficiencies. When citing deficiencies, Medicare & Medicaid Services uses an assessment that determines the severity of each deficiency with a letter of A through L. The most egregious deficiencies are classified as level four. Facilities in Virginia were cited with 20 level-four deficiencies.
Virginia's state government has an office that can be an advocate for elderly residents who encounter problems receiving long-term care. The Office of the State Long-Term Care Ombudsman can help bring about changes at the local, state and national levels to improve care and quality of life. More information about the agency is available at elderrightsva.org.