FAIRFAX COUNTY, Va. — Three weeks after a group of students were disciplined for using e-cigarettes on the grounds of Franklin Middle School in March 2018, a parent sent an email to Braddock District School Board representative Megan McLaughlin.
"I have never felt so frustrated by Fairfax County Public Schools as I do now," she wrote, referring to the 'constant threat' of vaping culture among underage kids. "I have never felt so powerless. I get it: Parents need to educate themselves. [Robinson High School principal Matt Eline]'s email in early February was efficient. However, I've heard nothing else about it from FCPS. Is it possible that I am the only parent asking about this stuff?"
She was not. A week prior, McLaughlin herself had written to the rest of the school board and several top county administrators about Braddock parents whose son had become "addicted to nicotine" from vaping, and "ended up with serious withdrawal symptoms."
2019's Monitoring the Future survey showed a leap to 37% of American 12th graders saying they had vaped in the last year.
"It's the largest-ever single-year increase," said Dr. Susan Walley, a pediatrician and the incoming chair of the American Academy of Pediatrics Section on Tobacco Control. "So schools are really struggling."
Internal FCPS vaping emails by WJLA-TV on Scribd
The epidemic of underage nicotine use has hit Fairfax County, America's 11th largest school district, as hard as anywhere else. Two years of emails on the subject between top FCPS administrators show articles and data on vaping traded back and forth, working groups planned, meetings held and knowledge carefully collated into PSAs as the problem grows. But nothing seems to be stemming the tide.
On January 10, 2019, a vape cartridge was found in the possession of a Pine Spring Elementary School student. Two weeks later, assistant superintendent Rebecca Baenig reported that a student at an unnamed elementary school had been found in possession of a vape itself.
"You all have become pretty well versed in these devices as you have security staff and SROs on site," Baenig wrote to the high school principals in her region. "However, your elementary colleagues in many cases, don't know what these devices look like or how they would determine the substance being consumed." She suggested an informational meeting on vapes for all county principals.
Fairfax County reports that student disciplinary incidents involving e-cigarettes skyrocketed from just 29 in 2016-17 to 302 in the 2017-18 school year. In 2018-19, they had doubled again just as of April 4, up to 600 incidents so far.
FCPS e-cigarette disciplina… by WJLA-TV on Scribd
"This is a public health crisis, but in a specific population," said Dr. Susanne Tanski, a pediatrics fellow who testified at a 2014 Food and Drug Administration hearing about the trend of adolescent e-cigarette use. "This is a public health crisis among young people. I don't see us turning yet. Just anecdotally, seeing what I'm seeing in my practice, this is still growing."
**
Dylan Menard has been vaping since he was 17. "For the past couple months," he offers initially, before his aunt Rachel Smith interjects: "Really? I would say at least a year."
Menard corrects himself. He's been vaping for a while, but using a Juul (a palmable, flash drive-shaped vape that packs a powerful dose of nicotine) is relatively new. That makes sense: between 2016 and 2018, Juul Labs soared from a 2% market share to 75%. Juuls are now so popular among teens that Juul has supplanted the word vape, like Xerox.
A former tight end for Westfield High School's football team, Menard is tall at 6'5, and confidently soft spoken. He's now a legal adult, plus a reformed cigarette smoker who ran a 5.23 second 40-yard dash while vaping regularly. And he says his vaping habit is mild, compared to his friends.
"I definitely know some of my friends who like, run through a pack of Juul pods in a day. Me having four days on a Juul pod, that's pretty impressive," Menard said. "Compared to when I first started, I was hitting it every five minutes. Now I can go like, thirty minutes."
A Juul pod contains 20 cigarettes worth of nicotine. A pack of pods contains four pods, and the liquid inside of a pod is inhaled in a aerosol form by the user. In truth, these vapes have more in common with a hookah than a cigarette. Some are designed to vaporize liquid THC, CBD oil or essential oils, but most vaporize pods of e-liquid, which contain nicotine, an assortment of chemicals, and a flavoring.
There are thousands of these flavors. "Some are clearly child-appealing, like Sour Patch Kids," says Dr. Walley. "Flavors were banned from regular cigarettes in 2009 because we know they appeal to youth."
Smith, who lives with Menard and his mom, says that Menard transferred from Chantilly to Westfield because of marijuana use at the former school. That's when he got turned on to vaping.
"My first time going to Westfield, my friend, he came with me. And he got into Juuling before I did," Menard said. "And I smoked cigarettes at the time, and I picked it up, and I was like, this is not going to be anything. I can hit this if I can hit a cigarette. And I was just ripping and ripping on it, and I felt a buzz and started feeling super nauseous. I was like whoa, what is this? I was not expecting this, the buzz was crazy. So after that I was like yeah, let me hit that joint, let me bring it to the bathroom real quick."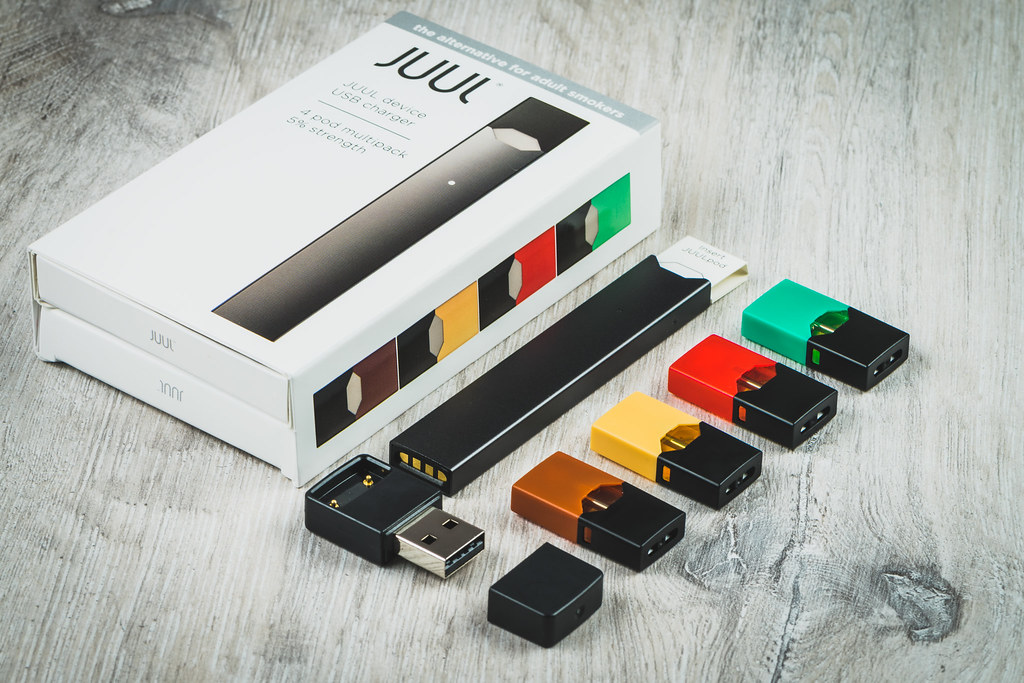 According to Tanski, the intense, condensed rush of nicotine from e-cigarettes can create a dependency very quickly — especially in a teenage brain.
"We don't know how many times it takes you to use these products to want them more and more and more," she said, "but it seems different than traditional combustive tobacco."
Smith, concerned about her nephew's dependency, painted a picture of compulsive use by Menard through playful teasing. She ribbed him about Snapchats he'd posted: videos from the school bathroom that showed circles of kids vaping, or him vaping on the sly in class. But at certain junctures, she grew serious.
"Before graduation, there was this big email put out — any kid who gets caught vaping at school, they're not going to walk at graduation," she said. "And he's bringing his thing to school like it didn't even matter. It was a struggle to get him to graduate, it was a big thing in our family. And I'm like dude! Is it that important? You know? Honestly?"
**
Parents and faculty aren't alone in their concern; teens themselves, more openly confronted by the magnitude of their generation's vape habit, are sounding the alarm.
Four boys at Chantilly High School went so far as to register a nonprofit and create a social media campaign under the name "Teens Against Vaping" after they heard about the vaping incident at Franklin Middle School.
It's clear that underage vaping is something these boys have thought about deeply, with a teenage integrity to their worry. All four seem dedicated and thoughtful; all four are involved with student athletics. Ryan Vandervate plays football for Chantilly like Menard did, and Will Wieder coaches for his 12-year-old brother's basketball team, something he says made the Franklin vaping incident hit home.
"They're so small, to me," Wieder said. "That's just disturbing, that kids his age are vaping."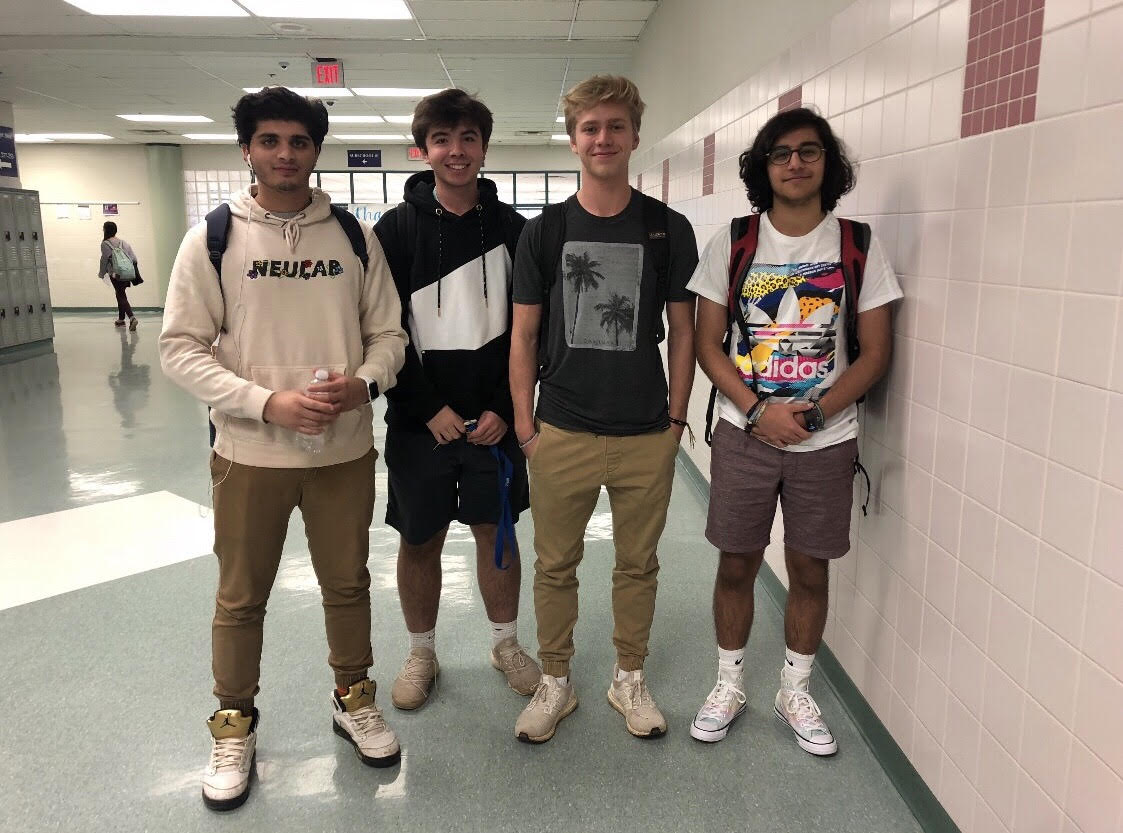 The boys have better access to their peers and friends than large, faceless organizations like DARE and truth. But they're up against an epidemic of use, a multi-billion dollar tobacco industry, and social media campaigns from companies that sell vaping to teens as cool and low-risk.
"The advertisements, I don't think they have to go by age," Vandervate said. "Because I myself, I've seen advertisements for Juul in my Instagram feed. So kids from like, 12 to 18 will see ads from Juul."
Walley has worked on youth tobacco use for about a decade, and says there's precedent for a company like Juul Labs (which tobacco giant Altria purchased a 35% stake in back in December) to set its sights on the young. "Tobacco companies, they know that cigarettes kill half of the people that use them," she said. "So for decades there was an intentional marketing process, like Joe Camel, aimed at teens, because if they knew all their older clients were being killed by smoking, they had to attract new ones."
In 2019, the FDA announced a crackdown on the kid-friendly flavors, but it's been slow to roll out. Even Juul's mango flavor, beloved by teens and forcibly discontinued, is still available from some retailers as they sell out their stock. Several of the convenience stores near Menard's home still had it in early 2019.
"Honestly, my friends get so mad at me and kill my pods, because I have the mango ones, and they're like, oh my Gosh, it's the forbidden fruit," Menard said with a chuckle.
Teens Against Vaping said they were familiar with the communal use of vape products and sneaky in-school vaping that Menard described, because those things are happening at Chantilly, too. For adolescents, this feels like a low-risk, high-reward social activity, which is part of what makes it such an intractable problem.
"When the teachers — not even when they have to walk out, but even when they just have their back turned — people will just duck under the table a lot of times," said Kamal Mazhar. "One advantage of having the problem in our own school is we can reference scenarios that we know. I know between second and fourth period if you go to a specific bathroom, everybody knows that vaping is going on there."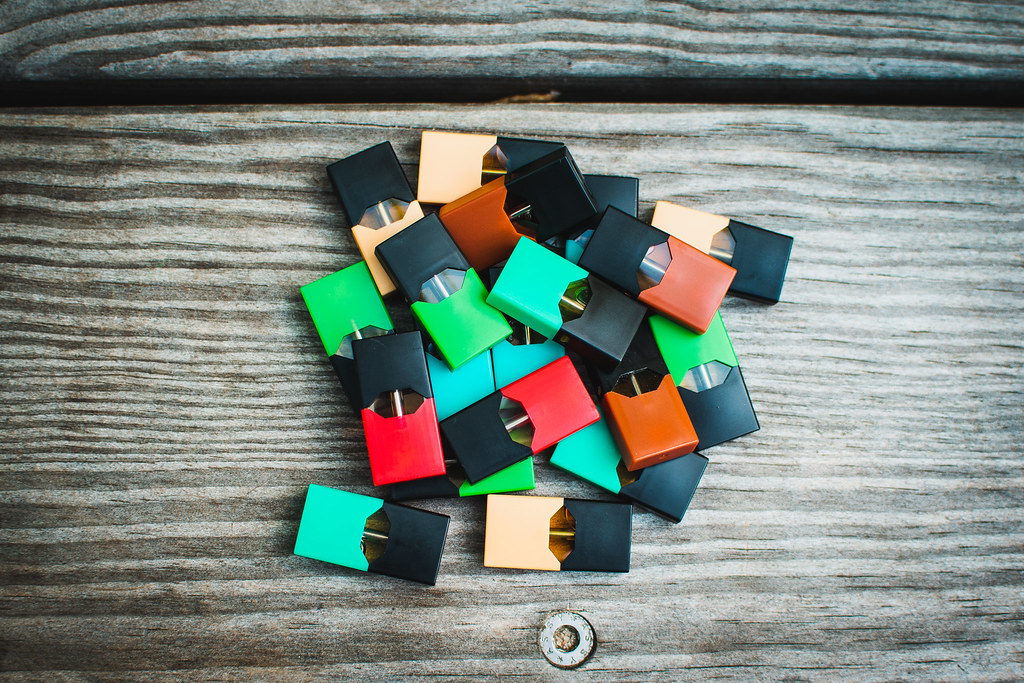 In Virginia, the tobacco age was just raised to 21 in February. Vaping was specifically cited by lawmakers as the impetus for the bill, HB-2748. The 18-year-old limit hadn't been serving as an effective deterrent; underage students could get vapes and vape pods from their siblings and friends, or avoid being carded entirely. Vandervate reported that a 17-year-old friend of his is able to buy vape pods in person at local stores.
Wieder points out that the juniors and seniors who might be able to legally buy vapes have aged out of health class, where information is scant as it is. Menard, a 2018 graduate, said e-cigarettes weren't covered in his health classes. A request for health curriculum material from the county yielded only three lesson plans that mentioned vaping.
"What they taught us in health class doesn't really help too much," said Mazhar.
"It's such broad topics that they have to cover," Wieder agreed. "I would say the ads from Juul on Instagram that they're seeing, that's where young people are going to find out their facts."
One worksheet for FCPS sixth-graders warns only that e-cigarettes contain addictive nicotine and are largely unregulated. "The research knowledge of the possible effects of secondhand vapors or effects on the body is not available yet," it reads. "This was once the case with cigarette use and smoking."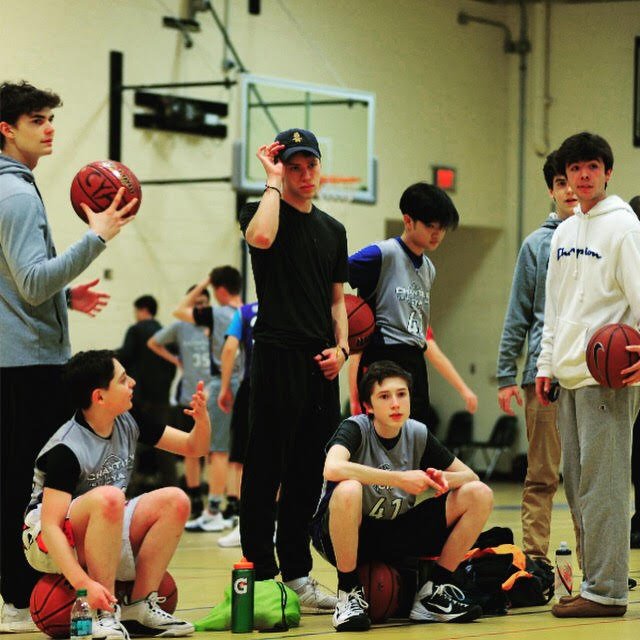 **
The FDA is currently investigating three dozen reports over the last decade of seizures linked to e-cigarette use, especially in youth and young adults. In an April press release, the FDA commissioner and deputy commissioner released a statement on the investigation, saying these reports were yet another glimmer of evidence that e-cigarettes might pose unique health risks.
"We believe these 35 cases warrant scientific investigation into whether there is in fact a connection," the report stated. "We want to be clear that we don't yet know if there's a direct relationship between the use of e-cigarettes and a risk of seizure."
There are a lot of good reasons underage kids shouldn't be vaping. It's illegal in every state for anyone under 18 to purchase tobacco products; in 14 states that limit is now 21. Numerous studies have shown that the underage brain is extra sensitive to nicotine, and not only when it comes to dependency. Growing brains can have their cognitive abilities marred by any substance that rewires the reward center.
"When electronic cigarettes and vaping devices came out, they were brought to the market in China as a [smoking] cessation device. And they've never been marketed or tested that way," Tanski said. "None of that research was done. They were brought on the market as a consumer product, and now they're here and we realize there's a lot of unintended consequences."
That first e-cigarette was created by Chinese pharmacist Hon Lik in 2003, and over the course of 16 years the industry has barrelled forward with limited regulations, protected by the comparably awful reputation of its deadly progenitor: tobacco cigarettes. Many e-liquids used to contain the chemical diacetyl, which can cause lung scarring known as "popcorn lung"; some still do. Mazhar cited popcorn lung specifically when listing vaping complications that had never been mentioned in his health classes.
Walley says that one of the biggest concerns for physicians is certain toxicants in the aerosol, which are present in smaller amounts than in cigarettes, according to a 2016 study. But they're there. And in cigarette smokers, they're known to contribute to cardiovascular disease and stroke.
An FCPS informational page on vaping devotes several paragraphs to this: "Often mistaken for water vapor, [the aerosol] actually consists of fine particles. Many of these particles contain varying amounts of toxic chemicals, which have been linked to cancer, as well as respiratory and heart disease," it states.
"We don't know everything about e-cigs, but we have enough to know that these are harmful products for our kids," Walley said. "Not only the very real chance for nicotine addiction, but also the other toxicants and cancer-causing agents in them. So we have enough information at this point, and that may not have been the case ten years ago when they came on the market."
She has a collection of vapes and vaping paraphernalia that she uses as visual aids when she speaks to parents and teachers. This is important, because vapes are often small, release only brief clouds of sweet-smelling vapor, and can look like other objects. She buys these props with her own money and keeps them in a Whole Foods bag.
Walley compares her crusade with the resources of tobacco companies, which spend tens of millions of dollars on marketing. David and Goliath.
"We're needing on a national level, more education," she says, and repeats: "Schools are really struggling."
Tanski isn't as worried about cancer; she says she doesn't believe the carcinogens are there in high enough amounts. She is "very, very" concerned about cardiovascular disease and stroke risk, as well as pulmonary effects. Those are complications that may not be evident for decades to come.
Tanski has two sons, 16 and 18, and sees teenagers regularly in her practice as a pediatrician. She warns young people away from vaping when she can, but laments that she doesn't know how effective she is.
"I had a young man who came to me for a physical a month or so ago," she said, "and he and I had talked about vaping last year or the year before. And he said, Dr. Tanski, I just want to let you know, I did vape. And I'm not ashamed that I tried it, I won't do it again, but I did try it. I really wanted to know what it was all about, because all of my friends are doing it."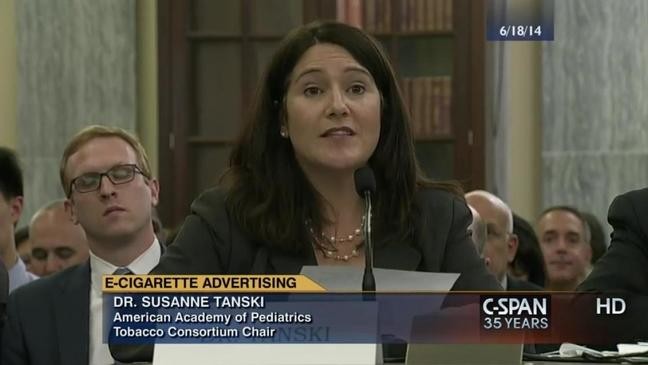 What Tanski wants to see is the laws changing to ban flavors completely, an even more urgently, a nationwide tobacco age of 21. Even Juul Labs supports the latter, as it would take heat off of the company for their product's popularity with kids.
"We do not want non-nicotine users to buy JUUL products, and are committed to preventing underage access to our products," a Juul Labs spokesperson said in a statement to ABC7. "We strongly support raising the national minimum purchasing age for all tobacco and vapor products to 21… We stopped the sale of non-tobacco and non-menthol-based flavored JUULpods to traditional retail stores, implemented enhanced online age-verification technology that also restricts bulk purchases, strengthened retailer compliance through our expanded secret shopper program, and exited our Facebook and Instagram accounts."
In May, Senate Majority Leader Mitch McConnell introduced a bill to raise the minimum age nationwide. He cited vaping concerns from parents as the impetus.
"If you do that, they won't be available in the high schools anymore, because you won't have 18 year olds who can buy them for the 17 year olds," Tanski said. "I wish I had the answers. I wish we knew exactly what was going to work to make this not cool anymore."