NOTE: This piece was originally released for publication in April 2016. You can also read it here.
RICHMOND, Va. — In a panel at the VPA/SPJ Region 2 Conference, newspaper editors Paige Mudd and Steve Gunn had an inspiring message for the journalists in the audience: Journalism is changing, but it's not necessarily dying.
Mudd is the top editor of the Richmond Times-Dispatch, and Gunn holds the corresponding position at The Virginian-Pilot.
Gunn said the industry is reducing jobs in design and production. But he added, "If your goal in life is to be a great reporter who goes out and gets information and delivers it to 10 platforms, no problem. There's going to be jobs, especially at smaller papers."
"You're both hiring, or have hired recently," pointed out panel moderator Robyn Sidersky, who works with Gunn at The Pilot as an online reporter.
"Yes!" Gunn said.
"That's a change, I feel like," Sidersky said. "I think people want to hear that. It's encouraging. It's a good sign."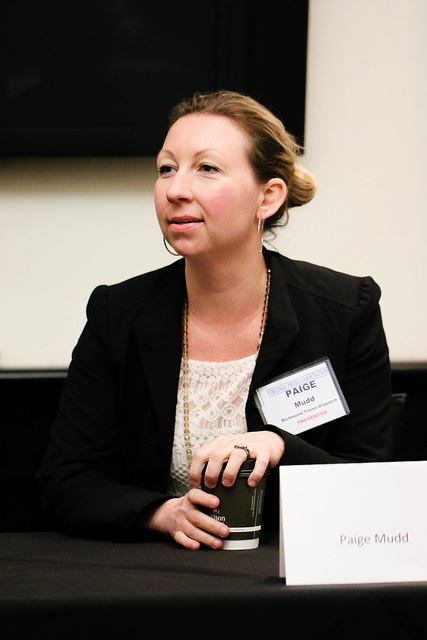 "We've also created new positions as we've seen the need for them," Mudd said. "It's an innovative time – a time where we're learning from the newer people who grew up with social media and iPhones and all of that. When we hire now, we're not necessarily saying we're hiring for a certain position. What we do is we bring people in and see what's the best fit."
Mudd discussed the need to give consumers an incentive to buy the product, whether that is print or online. In fact, the Times-Dispatch's most expensive subscription package is its all-access online pass.
"It's to say, our content costs money to produce, and no matter how you want to get it, you need to pay us," Mudd said.
Gunn and Mudd agreed that there is room for old-fashioned reporters to co-exist alongside journalists with a more modern mentality, and that marrying these styles leads to a paper that better serves the community.
The panelists also discussed the issues of paywalls and native advertising. Gunn said he was not optimistic about the future of paywalls. The consensus in the room was that publications will need to change course in order to make more money online.
"I think the newspaper industry made a huge mistake when they leapt on board with people who said the internet is free, everything on the internet should be free," said audience member Steve Jameson, who directs the advertising department at the Bristol Herald Courier.
"When we jumped on board, we basically told the world that our content is not valuable, despite the fact that we have to pay people to create that content."
Mudd said the Times-Dispatch has produced sponsored content, but it was clearly labeled as such and was tailored to readers.
"It'll be interesting to see over time if [sponsored content] is more successful than any of us realize," Gunn said.
Despite the general optimism in the room, it's unclear exactly how the industry will have to adapt in the future. The two panelists agreed that video has become important in driving clicks and shares, and that this has become a significant part of their online presence, even as print publications.
Mudd emphasized that what readers care about has not shifted hugely. They still enjoy locally focused pieces about retail and crime. Gunn pointed out that the Pilot's most popular piece of the last month was an article about a local crime.
"The best thing about being in a conference like this and looking at the young people is, the heart of our business hasn't changed in the least," Gunn said.
"We still come in every day, and we have a community to serve. We've got a politician to check out; someone's being a jerk and we've got to write about it; or we've got an inspirational story. That's the best thing about this profession. All the other stuff's kind of just the details."